Artists
About the Artists
Max Zorn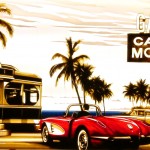 With a surgeon's scalpel for a brush, Max Zorn (NL) is an artist who uses ordinary brown packing tape as his medium and a scalpel as a brush. Rising to fame in 2011 as an urban artist because of his exclusive use of tape art on street lamps, in an impressively short timeline Zorn moved to solo exhibitions and an international resume spanning innovative projects from Art Basel in Hong Kong and Miami to downtown Bangkok and Dubai. Zorn has become established for his freehand craftwork and the vividness of his sepia-toned creations. His ability to shape layers upon layers of tape on acrylic glass that, when illuminated from behind reveal contrasts and warmth, is simply unique. The fusion between the awe of material and intricate detail in craft has led him to the stages of TED Talks, BBC and CNN. With his unmistakable way to compose cinematic settings, Zorn pulls the spectator into his motifs and encourages his audience to continue his story.
Shortlist Exhibitions & Events
2016 Art Dubai with Dubai Canvas and Stick Together Gallery, Dubai (UAE)
2016 AAF Singapore with Stick Together Gallery, Singapore (SG)
2015 Cornell Museum of Art & American Culture, group show, Delray Beach (US)
2015 Tour de Britain, group show with Sara Wade Contemporary, London (UK)
2015 Max Zorn solo show with Stick Together and The Sanderson, London (UK)
2015 Max Zorn solo show with m|u|c|a Gallery, Munich, DE
2015 STROKE Art Fair with Stick Together Gallery, Munich (DE)
2015 AAF Hong Kong with Stick Together Gallery, Hong Kong (HK)
2015 BLOOOM with Stick Together Gallery, Cologne (DE)
2015 Berlin Art Week with Stick Together Gallery, Berlin (DE)
2015 VAULT17, group show, Amsterdam (NL)
2015 Original Dampkring Gallery, solo show, Amsterdam (NL)
2014 SCOPE Miami Art Fair with Stick Together, Miami (US)
2014 EYE Film Museum, solo show, Amsterdam, NL
2014 Amsterdam Museum, installation, Amsterdam, NL
2014 ARTMUC with m|u|c|a gallery, Munich, DE
2014 Nicole Henry Fine Art, solo show, West Palm Beach (US)
2014 UNFAIR with Armory Art Week, New York City (US)
2013 Art Monaco with private collector, Monte Carlo, MC
2013 Art Stage Singapore with Gallery Visionairs, Singapore, SG
2013 Gallery Valleggia, solo show, Amsterdam (NL)
2012 ArtBasel Hong Kong with The Sovereign Art Foundation, Hong Kong (HK)
2012 Gala of Nations Live Ball charity with Princess Karina Foundation, Geneva (CH)
Marco "ZED1" Buressi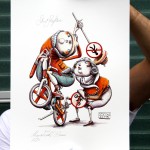 ZED1 (IT) hails from Tuscany with an evolution of nostalgic surrealism exhibited on an international level with galleries and urban projects stretching from Tokyo to Wynwood Walls, Miami. His subjects mimic dazed and dreamy marionettes with artistic skills in acrylic and aerosol that transcend from ten-story walls to delicate works on paper and canvas, keeping each piece unique and equally intriguing. Since 1998 his work gracefully combines distorted characters with softness and serenity, simultaneously overshadowing his detailed works with an underlying mood and message. With his satirical style of melancholy and wistfulness, ZED1 echoes a fabled dream that his worldwide audience and clients find strangely familiar and undoubtedly fascinating. The ability to strike a chord of pleasant wonder with clients and art lovers has only propelled his profession further into the eyes and interests of the freshest branches in contemporary art.
Shortlist Exhibitions & Events
2015 Spazio San Giorgio Gallery, solo show, Bologna, IT
2015 Galo Gallery, solo show "Fruits of Mind", Torino, IT
2014 NAME Gallery, solo show, Amsterdam, NL
2014 SCOPE Miami Beach with Stick Together Gallery, Miami, Florida, US
2013 GO Gallery, group show "Beyond the Streets", Amsterdam, NL
2013 Bottleneck Gallery solo show, New York City, NY
2013 Tag Gallery solo show, Bologna, IT
See more of ZED1's work and Second Skin videos www.zed1.it and follow him on Instagram at @zed1
Dean "ZEUS" Colman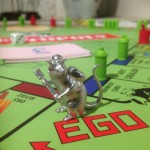 London artist Dean "Zeus" Colman (UK) has been drawing inspiration from urban culture to create dynamic, experimental compositions that have re-defined graffiti art since the 1980s, and have led to fine art collaboration projects with Prince Charles, Paul Oakenfold and the Beastie Boys to name a few. Zeus has continually pushed the boundaries of his niche artistry, taking the form out of its traditional setting and into new perspectives. His latest works represents an innovative fusion of 3D techniques and typography, fine art and sculpture, and reflect both his background on the streets and his formal training at Chelsea College of Art. The approach can be a clean and clever canvas, or mixed media crafted with extreme yet subtle detail, and glazed with a quirky wit that seems to stand at the foundation of all artworks as a solid, unforgiving instrument of identity.
Shortlist Exhibitions & Events
2016 Nicole Henry Fine Art, group show, West Palm Beach (US)
2015 Prescription art Gallery, solo show, Brighton (UK)
2015 Original Dampkring Gallery, group show, Amsterdam (NL)
2015 Urban in Ibiza, group show, Ibiza (ES)
2015 Lawrence Alkin Gallery, group show, London (UK)
2015 Vertical Gallery, solo show, Chicago (US)
2013 Black Book Gallery, group show, Denver (US)
2013 Opera Gallery, group show, Paris (FR)
2012 Look For Art Gallery, group show, Amsterdam (NL)
2012 Nancy Victor Gallery, solo show, London (UK)
2013 Graffik Gallery, solo show, London (UK)
2012 Corey Helford Gallery, group show, Los Angeles (US)
2012 Muse Gallery, group show, London (UK)
2010 Collectors Contmporary, group show, Singapore (SG)
2009 Carmichael Gallery, group show, Los Angeles (US)
2009 Ceresoli Gallery, group show, Los Angeles (US)
2008 Louise Blouin Foundation, group show, London (UK)
2007 Prescription Art Gallery, solo show, Brighton (UK)
See more at deanzeuscolman.com or follow his Instagram at @deanzeus
Daniel "Besok" Doebner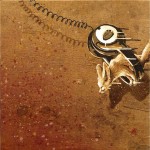 Daniel Doebner (aka "Besok") (DE) is an Amsterdam-based artist with such a musical eye for magical realism that it has made him one of the most melodious artists to blossom from the European urban art scene. His passion for soulful subjects in song can transition through different bodies, from birds to Dizzy Gillespie and dreamy divas. His series are inspired by emotions derived from deeply-rooted jazz, hip hop, rhythm and blues. Doebner is a master at playfully combining organic characters with elements of sound that often go overlooked. His combination of acrylic and aerosol drips create a vintage look that, when place on jute canvas, bring a sense of a rustic natural to his portraits on sepia-toned palates. The faces and instruments portrayed meet as if there is a dialog, a struggle, a romance, a desire. Background coloration are from stains of coffee grounds, carefully blended to give a vintage foundation beneath the subjects.
Shortlist Exhibitions & Events
2015 STROKE Art Fair with Stick Together (DE)
2015 Berlin Art Week with Stick Together (DE)
2014 SCOPE Art Fair at Art Basel Miami with Stick Together(FL)
2013 Name Gallery, group show "Hard", Amsterdam (NL)
2013 L'Espace culturel d'Anglemont, group show "Les Couleurs de la rue" Les Lilas (FR)
2011 D-Gallery, group show Kosmo Art Tour, Jakarta (INDONESIA)
2011 Walls Gallery, group show "Beyond The Streets", Amsterdam (NL)
2010 Kosmopolite Art Tour Paris (FR)
2010 View Art Gallery, group show "Urban View" , Bristol, (UK)
2010 Kosmopolite Art Tour Brussels (BE)
2009 LFTFLD Magazine Group Show (Chiellerie), Amsterdam (NL)
2009 Go Gallery, Kosmopolite Art Tour, Amsterdam (NL)
2008 ARTE DUE Gallery, group show "Vuote a rendere", Milano (IT)
2002 Chromopolis – the cultural olympics, (GR)
Learn more at http://danieldoebner.de
Save
Save
Save
Save
Save
Save